On June 2, 2020 Falcon Gold (FG.V) published assay results from its recent drill program on the Central Canada Gold Project near Atikokan, Ontario.
Results included 10.17 g/t Au over 3 Meters, 1.65 g/t Au over 5.83 Meters and 18.6 g/t Au over 1 Meter.
The Central Canada gold project in Ontario is 20 clicks SE of Agnico Eagle's Hammond Reef Gold Deposit which has a Measured & Indicated 4.5 Million ounces of Gold.
This is Falcon's flagship asset, but not its only one.
For the visually oriented, we highly recommend this smart iResource Media video – which gives a good Falcon Gold overview but does not include the June 2, 2020 results.
Falcon Gold's CEO Karim Rayani has already raised some eyebrows with the speed and efficiency of his development program.
"Karim Rayani is a deal guy from way back, a non-stop money raiser, deal maker, handshaker and groover/shaker with a particular penchant for the small deal," recounts Equity Guru's Chris Parry, "When he stumbled upon Falcon Gold, another tiny two-man mining explorer with a property that isn't terrible and that had a market cap barely into the 7-digits, he considered raising money for them… But hey, why not just take them over and make sure, this time, things are done the right way?"
"Nobody has bought more stock on the open market than me," Rayani says, who'll own 18% of the company if warrants and options are exercised. "It's cheap, so I buy some, and when we need more money, I provide it by buying into a raise. When we say we're going to drill, we drill."
"He ain't lying," continues Parry, "There are so many green marks on his insider trading chart, it's like someone attacked my monitor with a paintball gun".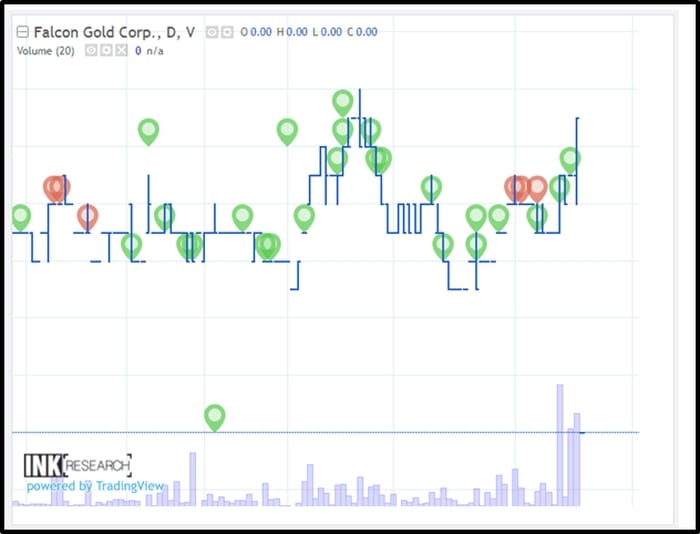 "The results have confirmed the presence of gold mineralization to a depth of 83 metres below surface of the historic Central Canada Gold Mine," stated Falcon, "Drill hole CC20-01 intersected high-grade gold mineralization at 67 meters depth containing an interval of 10.17 g/t Au over 3 meters as well as gold mineralization to a depth of 86.3 meters including 1.39 g/t Au over 5.83 meters: totaling 1.21 g/t Au over 19 meters."
The results also outlined a new mineralized zone untested by previous operators at 104 meters depth, which sampled 18.6 g/t Au over 1 meter.
Falcon has ordered a "rush re-analysis of core samples" which contained visible gold from CC20-02 and CC20-03.
The samples will be analysed at a "coarser size fraction" before metallic screening. This will help the field crew delineate the Central Canada Mineralized Zone along strike with a series of 6 shallow holes (totaling 530 meters).
Highlights of the initial hole CC20-01 are featured below:
"Recently raised flow-through funds will go directly into drilling the company's flagship Central Canada Gold & Polymetalic Project, some 3,200 hectares of geologically prospective terra firma," reported Equity Guru's Greg Nolan on February 17, 2020.
"Falcon, choosing to focus on its flagship Central Gold Project wisely optioned out a 51% chunk of Camping Lake to International Montoro (IMT.V) for 1.5 million IMT shares and $300k in work commitments," continues Nolan, "This JV works to minimize shareholder dilution while advancing Camping Lake further along the development curve. Smart move."
Nolan reports that, "In a move to strengthen and add depth to his team, CEO Rayani recently announced two new appointments—financing wizard R. Stuart "Tookie" Angus and Ian Graham, a top-shelf X Rio Tinto geologist."
Overview of Falcon's assets:
Central Canada Gold & Polymetallic Project – 10 km of highly prospective Quetico Fault Zone, Historical Gold Production
Wabunk Bay Copper and Nickel, PGM – hosts the world-renowned Red Lake gold deposits as well as Great Bear Resources' (GBR:V) Dixie project
Burton Gold Property – Located in the Swayze Greenstone Belt, Ontario, IAMGOLD earned a 51% interest by paying $150,000 in cash to Falcon Gold and completing $600,000 in exploration expenditures
Bruce & Camping Lake – located approximately 20 km southerly, of Great Bear Resources recent Dixie Lake high-grade gold discoveries
Spitfire & Sunny Boy Claims – Located approximately 16 km east of Merritt near the Nicola Lake Property, Master Vein with over a 300-meter strike length with samples ranging from 0.33 to 2.74 oz/t Au.
"Falcon Gold has multiple irons in the fire," confirms Greg Nolan, "Success on the exploration front should move these shares out of their sub-nickel trading range. Drilling at the company's Central Gold project could be that catalyst."
Full Disclosure: Falcon Gold is an Equity Guru marketing client.